Overview
Oregon farm fresh fruit, vegetables, nuts, honey, jams and snacks.
Peaches – Apples – Pears – Cherries – Berries – Vegetables
Detering Orchards, famous for having the best tasting fruit in the region, is a family owned farm located in the Willamette Valley of Western Oregon. People travel from all over the west coast for the unique Detering taste. Detering Orchards grows top quality fruits and vegetables such as apples, pears, peaches, blueberries, tomatoes, pumpkins, peppers and many others, with most of the produce offered as both harvested and U-pick.
Detering Orchards offers fresh-made jams, preserves, salsa and apple cider, which you're going to love! You'll also find locally produced nuts, honey, corn and melons for sale at the produce stand, which accepts cash, checks and credit cards. At Detering Orchards you'll find good food, good people and great fun!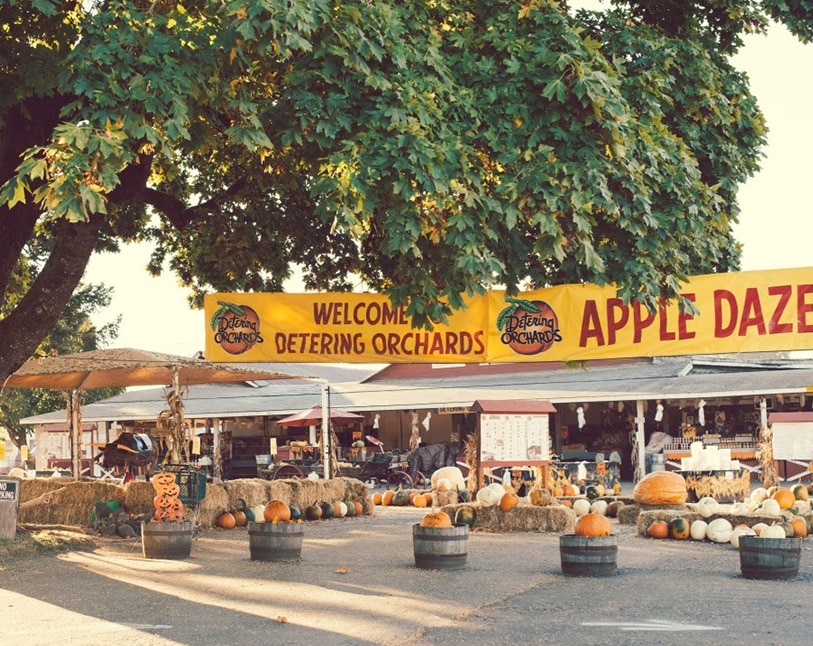 History
The Great Depression was at its worst in 1934, but Gerald Detering, a Eugene jewelry store bookkeeper, had a dream of owning his own farm. Marie, his wife of four years, shared his dream, since they both came from old farming families. hey found a forty acre tract of river bottom land they liked, located a dozen or so miles north of Eugene, so they bought it and started a small truck farm. Their new home wasn't even completely finished when they moved in and started raising crops of asparagus, blackberries, cabbages, carrots, muskmelons, rutabagas, rhubarb, turnips and peaches. Some of their crop they sold in nearby Eugene and some they sold from a fruit stand under a tree on their property.